Debt review and how it works
If you're really taking strain and struggling to make debt repayments, we can refer you to a debt counsellor who'll help you deal with your debts.
What is Debt Review?
It's a process that helps customers who are struggling to meet their debt obligations. A debt counsellor approaches your creditors and makes payment arrangements on your behalf, reducing your payments to a manageable amount monthly.
What happens when you get into Debt Review?
Once you're in debt review, you will not be able to apply for credit
You'll be listed on the credit bureau
You'll be liable for paying debt counselling fees
You'll still need to pay your instalments while under review
You'll get assistance from a debt counsellor, who'll walk you through the process
Debt review process
Download the debt review process or view it below to better understand how it works.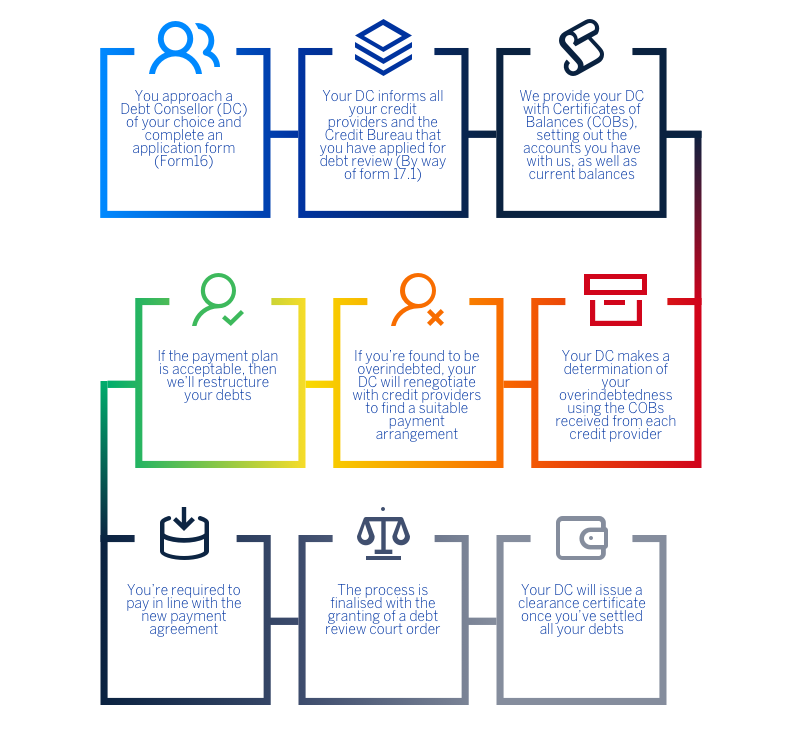 Who can get into Debt Review?
If you cannot afford your monthly debt payments, you may seek assistance from a debt counsellor.
If you're struggling to keep up with your repayments, you can speak to us about finding the best solution for your unique financial situation:
Standard Bank Debt Care Centre: 0860 111 400
Email us: [email protected]
National Credit Regulator: 0860 627 627
Banking Ombudsman: 0860 800 900
Terms and conditions apply.